Robert Mondavi Full Moon Dinner
Timed with October's full moon, Southern Glazer Premier partnered with the Mathayom Private Chefs of St John to celebrate the 50th Anniversary of Robert Mondavi.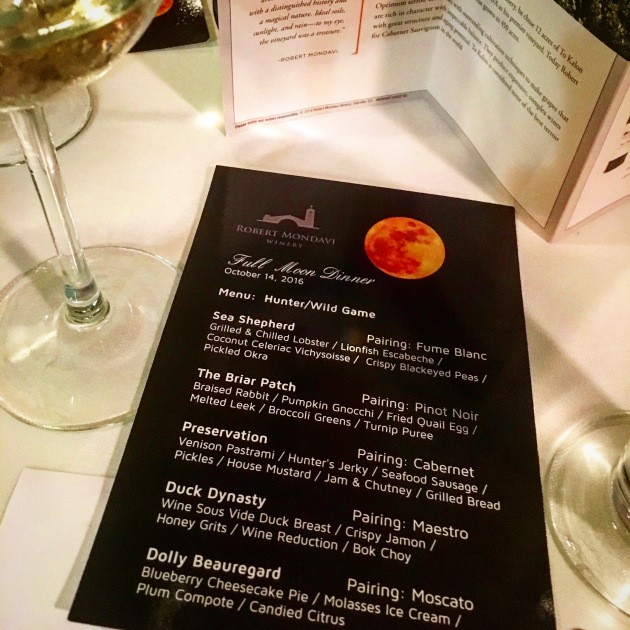 A beautiful full moon evening in St John was the backdrop for the Robert Mondavi 50th Anniversary Full Moon Dinner in the US Virgin Islands. An ecletic crowd of both local and tourists enjoyed a superb Hunter Moon Food & Wine Menu.
The dinner showcased the full range of Robert Mondavi's renowned wines such as Robert Mondavi Napa Valley Fumé Blanc, the sultry Napa Valley Pinot Noir from the cool Carneros District, the powerful Napa Valley Cabernet Sauvignon, and a sweet touch of Robert Mondavi's Moscato d'Oro.
The Robert Mondavi Maestro, a special wine produced to celebrate this year's 50th anniversary of the Robert Mondavi Winery, was the star of the evening. The Maestro paired well with the Duck and Jamon showcasing flavors of dark rich red fruit. The sweet Moscato d'Oro was the ultimate finale to this equisite dinner comprised of five magnificent courses; including Grilled Caribbean Lobster with vichyssoise, flavorful Braised Rabbit, Mississippi Venison, Duck Sausage, and Cheesecake to crown the evening.
The chef's original menu reflected the rustic feelings the October moon evokes, while the wines matched perfectly. The sold-out event was a great success and the 45 guests left with a greater appreciation of the best of Napa Valley.
Robert Mondavi established his namesake winery in 1966 with a vision to create Napa Valley wines that would stand in the company of the world's finest. He chose To Kalon Vineyard in the heart of the Napa Valley as the home for Robert Mondavi Winery. This first-growth vineyard, located in Oakville, California, is renowned for producing some of the finest Cabernet Sauvignon wines in the world, as well as for its Sauvignon Blanc grapes, from which Mr. Mondavi crafted his signature wine, Fumé Blanc.