To Kalon: A True Expression of Robert Mondavi's Commitment to Quality
From biking through the venerable To Kalon vineyards to viewing Napa Valley from high above in hot air balloons, Robert Mondavi Winery delivers an unforgettable series of seminars dedicated to the heritage and pedigree of the historic To Kalon vineyard.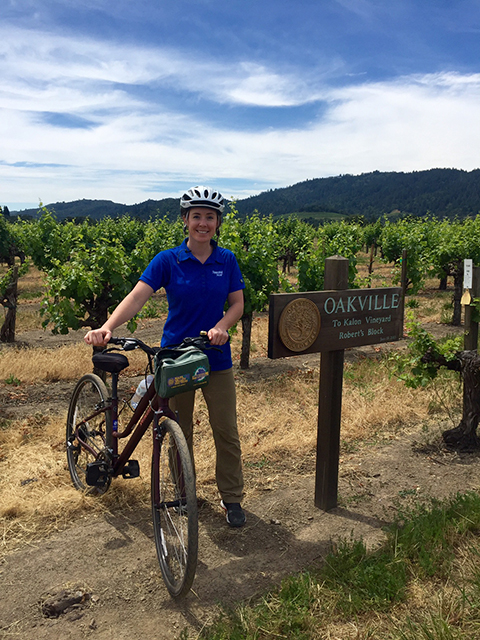 This summer, Stansfeld Scott's Wine Portfolio Manager, Michelle McGovern, joined fellow wine industry professionals from around the world who travelled to the heart of the Napa Valley for the 2017 To Kalon Certification held at the Robert Mondavi Winery. This unique trip highlighted Robert Mondavi's original vision to produce wines from the Napa Valley that would stand in the company of the worlds' finest. Throughout the weeklong seminar, each scheduled event revealed the history, heritage, uniqueness, and quality of wines that continue to be crafted at Robert Mondavi Winery.
In 1966, Robert Mondavi established his namesake winery alongside the northern boarder of the historic To Kalon vineyard. Ancient Greek for "the highest beauty," To Kalon is the historic vineyard that rests in the shadows of the Mayacamas Mountain range on the western side of the Napa Valley. Even today, this prized vineyard continues to provide Robert Mondavi Winery with grapes for its world-class Cabernet Sauvignon Reserve, Oakville District Cabernet Sauvignon, and is renown as the exclusive source of their Fumé Blanc Reserve.
In his words, "It was a vineyard with a distinguished history and a magical nature. Ideal soils, sunlight, and rain—to my eye, the vineyard was a treasure. Walking through To Kalon, admiring its contours and vines, smelling the richness of its soil, I knew this was a very special place. It exuded an exceptional quality I could not describe, a feeling that was almost mythical. The place just seemed to radiate a sense of calm and harmony, of peace and serenity. As I walked, I felt a powerful, almost inexpressive connection to this land. And some root intuition inside to say, 'Yes, this is the place.' "
Fifty-one years later and the guests of the To Kalon Certification Seminars relished in Robert Mondavi's vision and relived his passion through To Kalon Cellar tours, vertical tastings dating back five decades, and learning directly from numerous experts, winemakers and vineyard directors who work so closely with the land.
Robert Mondavi Winery's To Kalon Certification included a hot air balloon ride intended to give an aerial view of the valley to better understand the topography that makes the Napa Valley region so unique. Guests also took a bike ride through the vineyard hosted by Master of Wine Mark de Vere, to better understand the alluvial fan that makes up the To Kalon vineyard and how these various soil types affect the flavor profiles of the Robert Mondavi Winery portfolio of wines.
"This was not only a very educational experience, it was also a very enjoyable one," shared Michelle McGovern. "Our group was made up of Robert Mondavi Winery representatives from around the world including importers, hoteliers, and restaurateurs. It was great to be with industry contemporaries discussing new and emerging trends while learning, from vine to bottle, why Robert Mondavi wines have a place amongst the world's finest wines."