SSI Team Visits Napa Valley during Harvest Season
At the height of the harvest season, Stansfeld Scott's Wine Portfolio Managers visited California to learn firsthand the incredible dedication that is needed by winemakers at several of Constellation's most esteemed wineries.
It's September. The weather has started to cool down and all over the Napa Valley region; vineyard workers are briskly picking grapes at the peak of ripeness. After leaving Mother Nature to dictate the winemaking pace, August to October becomes a three-month race against time to get the grapes into the fermentation tanks to begin the process that will eventually result in delicious wines. Stansfeld Scott's Wine Portfolio Managers take a brief trip to California to learn more.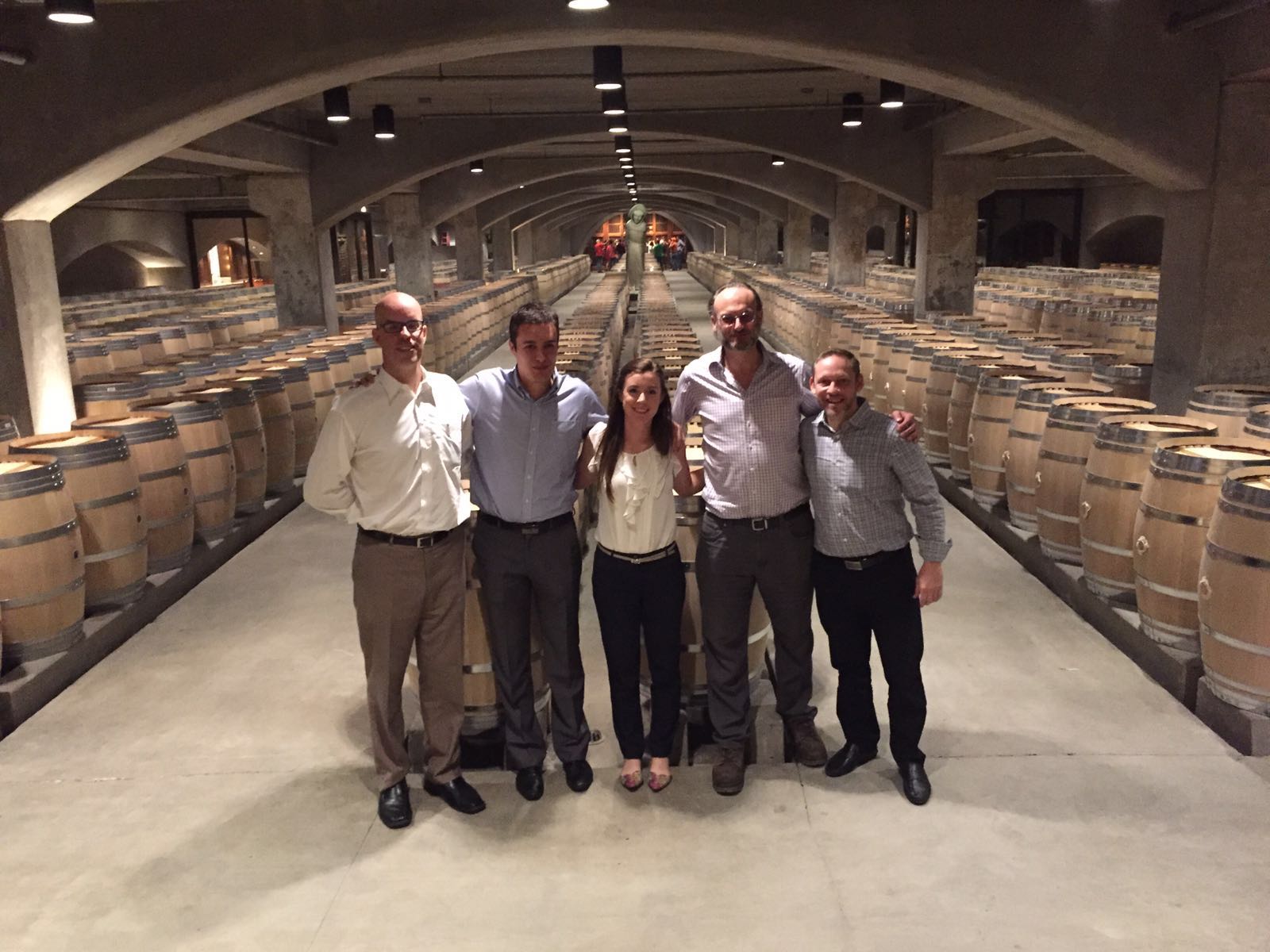 (l-r) Ethan Perk, Mathieu Rudelle, Michelle McGovern, Mark de Vere (Master of Wine for Constellation Brands), Andres Lugo
The Robert Mondavi Winery was the first stop for the Stansfeld Scott team. The winery itself has winery with an extra festive atmosphere as they continue celebrations in honor of their 50th anniversary. Mark De Vere, Master of Wine for Constellation Brands and Educator for the Constellation Academy of Wine, brought to life the history and legacy of Robert Mondavi through his personal accounts and memories of the man who revolutionized the California wine industry.
Stansfeld Scott Portolfio Manager of Wines, Michelle McGovern, recollects, "It was a great time of year to visit because harvest is going on and many people were very hopeful and excited about the 2016 vintage. That day, they were bringing Pinot Noir grapes into the winery which we got to taste right from the picking bin."
The group then visited Franciscan Estate Winery where they tasted all of the current releases including small production winery exclusives. In addition, the team enjoyed a blind tasting experience putting their skills to test with the newest brand in Constellation's portfolio– The Prisoner Wine Company. Blindly smelling typical wine aromatics from natural food items like peach, plum, chocolate, and vanilla the tasting demonstrates a person's reliance on sight to smell.
Purchased in April of this year, The Prisoner Wine Company's portfolio includes the superstar red blend The Prisoner, in addition to Saldo, Cuttings, Blindfold and Thorn. The wines for these innovative blends are source varietals from the best vineyards and appellations located across California. The goal is to create interesting wine blends that are thought provoking and approachable.
Last but certainly not least, a bonus tour was arranged at Opus One. Located directly across the street from The Robert Mondavi Winery, the group was able to enjoy the winery, discussing the topography, climate, and geography that make Napa Valley so unique.
Overall, the brief two-day visit was very insightful and educational for the team. Meeting with Constellation, Stansfeld Scott discussed upcoming promotions and planned marketing activities for core wine brands throughout the Caribbean region.