González Byass is the European Winery of the Year
Mauricio González Gordon collects the coveted award for European Winery of the Year Award from Wine Enthusiast Magazine.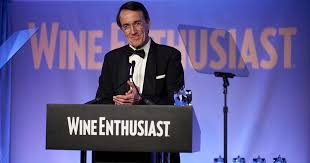 Each year, the editors at Wine Enthusiast Magazine nominate the most influential members of the alcohol beverage industry for the annual Wine Star Awards, including people and companies who have made outstanding achievements in the wine and beverage world
At the 19th annual Wine Star Awards gala on Monday, January 28, 2019, Mauricio González Gordon of González Byass, the family-owned producer of fine wines, Sherries and premium spirits, picked up the prestigious award for "2018 European Winery of the Year" from Wine Enthusiast Magazine.
"This is a huge accomplishment," says Mauricio González Gordon, chairman and fifth generation family member of the company, "With such amazing wineries in Europe, we are so excited to win this award. González Byass strives for excellence and it is wonderful to be recognized for the hard work and dedication by one of the leading wine publications in the United States."
Founded in 1835, González Byass is a family-owned, collection of wineries that spans across Spain's most important wine producing regions. The González family has been dedicated to making fine Sherries and brandies in Jerez, Spain, creating such well-known brands as Tío Pepe Fino Sherry and Lepanto Brandy de Jerez. Today, the fifth generation of the González family continues to build the winery and brands, including: Bodegas Beronia (Rioja and Rueda), Cavas Vilarnau (Barcelona), Finca Constancia (Vino de la Tierra de Castilla), Finca Moncloa (Vino de la Tierra de Cádiz), Viñas del Vero (Somontano) and Pazos de Lusco (Rías Baixas). In each of these regions, González Byass seeks to make the highest quality wines respecting the local terroir and the environment.
Picture shows: Mauricio González Gordon receiving the award for European Winery of the Year at Wine Enthusiast Wine Star Awards. Photo by Mark Tomaras Photography